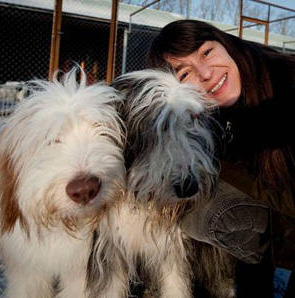 Photo: Ola Åkeborn
About BOOMTOWN
I obtained my first Bearded Collie 1972 and I have never considered any other breed since. The Beardie is an intelligent and positive dog with a lot of workingcapacity and a heart of gold. The breed's standard says: 'Alert, lively, self-confident and active. Steady, intelligent working dog, with no signs of nervousness or aggression.'

Our intentions are to breed mentally stable and healthy Bearded Collies mainly as companions, possessing the capacity to train and compete. Our goal is to use studdogs who has achieved approved herding instinct tests, approved mental test and fits truely in the halotype standard. To avoid further deprivation of inbreeding we strive for an COI (coefficient of inbreeding) lower than 2%.

Boomtown's breeding program has this far resulted in 16 litters including 25 approved mental tests, 37 approved herding instinct tests and 37 HD grade A or B. On top of that a couple of CC, Price of Honours and 'Excellent' at confirmation show, not to mention all agility- and blood tracking results. I'm convinced that keeping the herding instinct in my breeding also includes most of the good qualities we stribe for in the breed. Our long term intension is to produce healthy, mentally strong Bearded Collies, sufficiently outbred to widen the genepool.

Would you like to know more about the Bearded Collie, please contact contact us.